Following HM Government's announcement, Jaguar Land Rover Experience has made the difficult decision to postpone the re-start of Factory Tours for the time being.
FACTORY TOURS
What does it take to bring to life some of the most technologically advanced cars in the world?
See 'Behind the Roar' at Jaguar Castle Bromwich and discover how the manufacturing operations have developed from building Spitfire aeroplanes in the 1940s, to iconic Jaguar vehicles.
And, you'll get exclusive access to many areas of the facility that are being opened to the public for the first time.
Price per person £49.00
Price per child (10-16 years) £39.00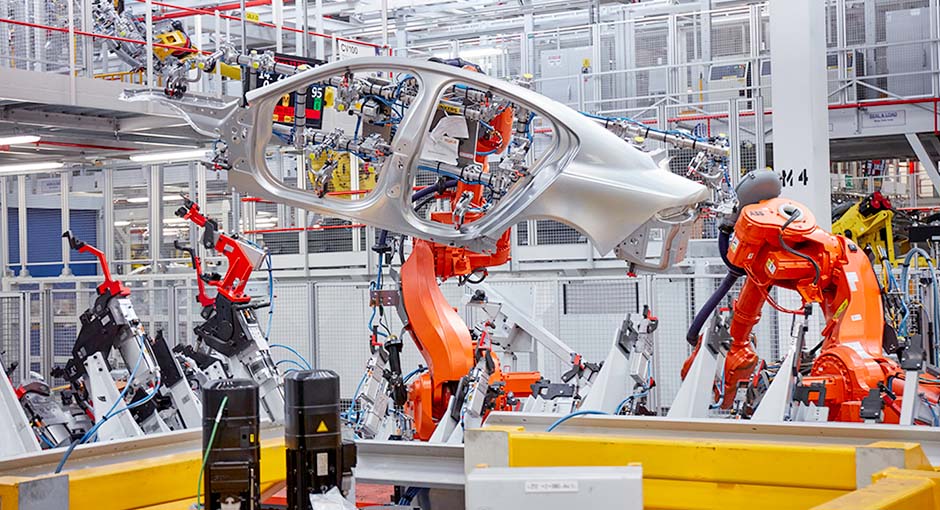 YOUR EXPERIENCE
The site at Castle Bromwich has been a focal point for the community since the doors opened over 80 years ago. The guided tour provides a unique opportunity to discover how Castle Bromwich played an important role for the country during World War 2, and an exclusive insight in to today's manufacturing operations. You will learn how the expertise in advanced aluminium manufacturing was developed further to today produce Jaguar's range of luxurious, sophisticated vehicles.

Your dedicated expert guide will take you behind the scenes for an exclusive inside view into how Jaguar's breath taking range of thrilling cars are brought to life.

With privileged access you will get close up to many different stages of the state of the art manufacturing processes responsible for creating a Jaguar Vehicle.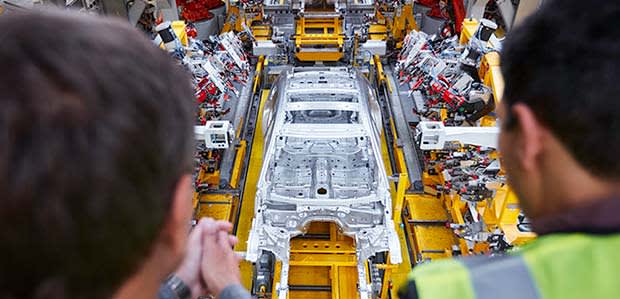 Duration: 3 Hours
Monday to Thursday: 9am and at 1pm

Closed Weekends and Selected Bank Holidays

Subject to Plant holidays and Scheduling.

Please note that this is a walking tour. If you have limited mobility please contact the Jaguar Experience team before making a booking.
Jaguar Experience has made changes to reopen safely in line with HM Government and Public Health England. Please read our safety and well being charter here
Experience Terms and Conditions Apply.
Please click here for details.
BOOKING INFORMATION
GIFT VOUCHERS

Gift vouchers are currently unavailable. They will be back on sale again soon.
Searching Availability...
GETTING HERE
ADDRESS
The Jaguar Visitor Centre - Castle Bromwich,
Chester Road, Castle Vale, Birmingham, B35 7RA, UK

CAR PARK SATNAV COORDINATES:
52°30'55"N
52.515289,

Please check your route before you travel.

FROM M6 EASTBOUND
At junction 6, take the A38 exit to Lichfield. At the roundabout, take the 3rd exit onto Tyburn Rd/A38. In 2 miles turn right onto Kingsbury Rd/A38. Follow for 0.8 miles then, at the next roundabout, take the 4th exit onto Chester Rd/A452 dual carriageway. In half a mile you'll reach the Spitfire roundabout. Go right round, taking the fourth exit, now heading north on the Chester Rd/A452. The entrance to The Jaguar Visitor Centre is in a couple of hundred yards on your left.

FROM M6 WESTBOUND
At junction 5, take the A452 exit to Birmingham (E)/Sutton Coldfield. At the roundabout, take the 3rd exit onto Newport Rd/A452. Go straight across the Spitfire roundabout. The entrance to The Jaguar Visitor Centre is in a couple of hundred yards on your left.

Parking is free.
IMPORTANT VISITOR INFORMATION
HOW DO I BOOK?

DO I NEED TO BRING ANYTHING?

The Tour at Castle Bromwich is extensive so we recommend you dress for comfort and wear sensible footwear. Handbags, rucksacks and other types of hand luggage, are not allowed in the factory. You can leave items securely in The Jaguar Visitor Centre. We want you to be able to get up close to our production vehicles during the Tour. We may supply protective over wear to cover items such as watches, jewellery and belt buckles. Our advice is to leave such items securely at home.

When visiting our facility please keep legs and arms covered and wear sensible footwear. Open toe shoes, sandals, shorts and t-shirts are not permitted in any of the manufacturing facilities.

HOW OLD DO I NEED TO BE?

You need to be over 12-years-old to take part in the Tour. Under-16s must be accompanied by an adult.

CAN I PARK AT THE FACTORY?

WHEN DO I NEED TO ARRIVE?

Everything at our plant runs with precision. Please aim to arrive at The Jaguar Visitor Centre 15 minutes before your start time to make sure you're booked in and ready to go.

CAN I TAKE PICTURES?

Photography is only permitted in designated areas so please ask your tour guide or host.

IS THERE ACCESS FOR THOSE WITH DISABILITIES?

The Tour provides access for people with disabilities. However, please do inform us about particular needs so any necessary arrangements can be made in advance.